Been Playing Guitar But Hit A Wall? Just Want To Get Better?
Congratulations – you are at a crucial point in your playing where you need some specific instruction to keep you motivated, on track, and identifying your goals and desires as a guitar player. Think back to the reasons that you began playing in the first place – what feelings did you have when you envisioned yourself playing?
Were you rocking out in front of hundreds or thousands of people? Or were you just singing some songs to your friends and family in the living room or around the campfire? Maybe you were looking for a way to accompany your poem writing, or just want to rock out with your favorite artists? It doesn't matter why, just that you get in touch with why and identify your goals.
---
#1 – Save Time and Money.
Do you buy guitar DVDs and online courses or are you the type that cruises YouTube for free lessons of your favorite songs? Maybe both? There is so much information available that it is difficult to determine what you should be learning. You could spend months or even years wasting time and money on guitar learning tools – books, online courses, DVDs, tab sites, and YouTube and still not make much progress. Do you know why?
#2 – Learn to Play the Right Things At the Right Time.
Did you know that learning the right content in the wrong order can actually slow down your progress? A great teacher will help you optimize your learning, by showing you the right things at the proper time. This reduces the amount of time spent searching around and helps you reach your goals much faster.
#3 – Correct Demonstration and Feedback on What You're Learning.
Most reputable DVD's and courses (and even some YouTube videos) give you detailed, up-close, demo's. Occasionally there are tabs or diagrams included too. Where these tools *fail* is they lack in giving you feedback about YOUR playing. A great guitar teacher will not just focus on "showing" you the lick, but will watch you play it, to make sure that you are not just trying to make it "sound" right, but you are doing so the best way. They will help you resolve your problems so you can focus on enjoying your progress, rather just wondering if you are doing it correctly.
#4 – Get Motivated!
A great guitar teacher will encourage and inspire you to pick up your guitar and play. Knowing that you have someone to support your development and learning is a great asset to taking guitar lessons. The expert feedback, personalized support, guidance, and coaching give you far greater chance at success than any other methods.
#5 – Get Help With Your Practice.
Guitar lessons alone will not make you a better guitar player. How you spend the time between lessons will determine your progress. Knowing how to practice is critical. A great guitar teacher will help you to use your time wisely, provide you with an effective and personalized practice strategy aimed at maximum results in the shortest amount of time.
---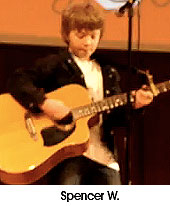 "…always encourages me and he is really fun to play guitar with."

My name is Spencer and I am 10 years old. I have been taking guitar lessons with Ken K for four years. I wanted to learn to play the guitar because whenever I hear a guitar it sounds awesome to me. Ken K is the best teacher.


[Check out this video of Spencer in action…] [+ show][- hide]

---
#6 – Get Support and Guidance When You Need It.
A great teacher you will give you feedback on your playing every session. They will tell you exactly where you are strong and in what areas you need improvement. Seeing a teacher on a regular basis is the best way to ensure that your guitar playing is moving forward and improving.
#7 – Be Around Others In the Same Situation.
How often do you play music with other musicians? Even if you do not want to be a rock star, playing music with other people is beneficial to your playing, builds self-confidence and is simply great fun. A great teacher will provide opportunities to play with other students by way of group programs, jam classes, workshops and other events. Meet new people and have fun making music with them.
#8 – Get Results!
A great guitar teacher will give you the exact information that you need, when you need it. Then they will coach you through learning it and how to use it to improve your playing. Don't waste time or money on ineffective methods or courses promising the ultimate short cut to great guitar playing.
Acoustic and Electric Guitar Programs
Programs are available for both the acoustic and electric guitarist, covering many popular styles such as classic rock, blues, hard rock/metal and acoustic/ folk. You can learn to play lead guitar, rhythm guitar, or both. Whether you want to expand your current skills massively, or just chill out with friends, rock out with a band, or hold your own at a jam session, I can help you get there.
---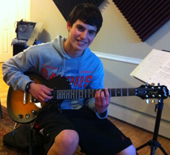 "Ken has inspired me both as a musician, and as a person."
"Ken has improved my soloing, taught me how to play barre chords, and has taught me many scales. He is a great teacher but an even better person. " – Alex B
---
My Commitment to You!
As a member of an exclusive network of the most reputable guitar teachers around the world, I am continuously seeking new ways to more effectively facilitate student learning. My classes are an extension of things I've learned in this program and provide for more value for your money and allow you to become a much better, more rounded, and confident player, in a much shorter space of time.
---
Are you ready to take it to a new level?
Click here or on the button below and tell me about yourself. I look forward to it.