Are You A Brand New Beginner Or Just Learning To Play Guitar?
For absolute beginners I offer introductory classes in both acoustic and electric guitar. These are easy slow-paced classes so that you can get some familiarity with the instrument. The goal of these classes is to have you play simple songs as soon as possible. If you have never touched an instrument before, these programs are for you.
Here's some things to consider…
If you are just starting with the guitar for the first time or in the beginning stages, it is important to find someone who is experienced in teaching beginners. This phase of playing is the most critical, and it is here that over 95% of beginning players quit.
Why do so many students quit at this stage?
They quit because they're bored, it's too hard, or they're not learning things they can use right away. They quit because they don't know who to turn to for help or how to get started.
Most of my students have been with me for a year or more, some for many years. You can read their comments in to the right, or click on the Testimonials page. If you live in Littleton, Highlands Ranch, Centennial, Ken Caryl, or the Denver suburbs and are looking for guitar lessons, I have the experience and the ability to quickly get you learning to play, and make the process of learning FUN!
---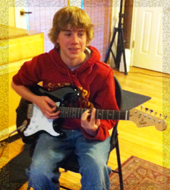 "…very lucky to count you as not only a teacher but as a friend as well."
"Thank you, Ken. Because of you Jack is growing and is a more well rounded person than many of his peers. I appreciate the work your doing with him. He is very lucky to count you as not only a teacher but as a friend as well." – Celia B (Littleton)
---
Why not just teach myself – there's lots of resources?
Some people think they can teach themselves. There is an entire industry capitalizing on it – but the truth is, it is very difficult to teach yourself how to play an instrument such as the guitar. How can you teach yourself something you know nothing about? Who is there to correct your hand position, or point out simple flaws in your technique that slow down your progress? Who really cares if you are successful, creates specific lesson plans for YOUR needs, and holds your hand through the entire process? I do.
It is common for beginning players to think that watching YouTube videos or downloading "tab" from the internet is going to help them become better players, but it doesn't. Have you tried that route? If so, it is likely you are suffering from information overload. I can help you, it is easily fixed.
It is easier, more productive and a lot more fun to have lessons with a teacher such as myself.
---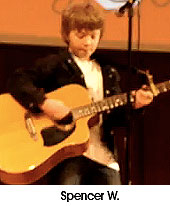 "…always encourages me and he is really fun to play guitar with."
My name is Spencer and I am 10 years old. I wanted to learn to play the guitar because whenever I hear a guitar it sounds awesome to me. Ken K is the best guitar teacher in Littleton.
[Check out this video of Spencer in action…]
[+ show]
---
You have questions, but not sure who to ask?
In the beginning you may have many questions because you may not be familiar with learning guitar or music in general. I will take the time to answer all your questions and explain the big picture to you so you fully understand. I also provide additional phone and email support for students in certain programs, and will always take the time to answer your needs, questions, and concerns.
---
Do you know where to turn to for advice?
Many beginning (and beyond) guitar players listen to advice from their friends and family. Although they might be trying to help you, they probably don't have the guitar teaching experience needed to guide you through what you need to do, and how to get started. I have that ability and I will help you all the way.

Still unsure?
Read what my current and past students have to say about their guitar lessons at Littleton Guitar School.