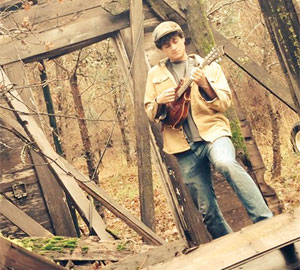 Justin Eubanks is multi-instrumentalist mandolin/ guitarist for the Portland-based band "Max's Midnight Kitchen". Justin and Ken met in June 2006 while Justin was still in high school. Justin was eager to learn but lacked specific direction and inspiration to master the basics.
After 2 1/2 years of lessons, Justin moved to Portland, OR to attend college. While at college he joined the band Max's Midnight Kitchen and also took his guitar playing experience and applied it to the mandolin. He has traveled extensively, including touring with MMK through the US and Europe. Justin currently works for a French immersion school and is developing a music teaching curriculum for ukelele and guitar for young children. He knows that he is well prepared for any musical endeavors that he attempts and continues to evolve his musicianship and songwriting.
Here's what Justin had to say about his experience with KenK and Littleton Guitar School.
---
LGS: How did you view guitar lessons before you started taking lessons with KenK?
JE: I first started learning the basics of guitar from my dad, and then took a few lessons from another local teacher. I learned a lot of good fundamentals and basics from them but had pretty different musical tastes and interests. I was able to relate much more to Ken's playing and his teaching style. Even if I didn't enjoy the process learning all the basics and fundamentals with my other teachers I knew that they were key to becoming a good player. Ken's teaching made the fundamentals fun and challenging while being able to cater specifically to me as a student.
---
LGS: How has that perception about guitar lessons changed?

JE: Ken's style of teaching relies on the student to be self-motivated and inspired. He encourages his students to bring material, songs, artists, or styles of their choice to the table and use the student's interests to build on the surrounding music theory and technique that applies. My other lessons tended to be much more formulaic, and didn't effectively combine what I wanted to learn with what I needed to learn to be a better player.
---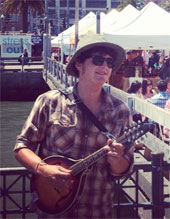 LGS: Name 3 things you understand or can do now, that you didn't understand or couldn't do before you began lessons with Ken:
JE: Three things…
Instantly determine what key a song is in.
Pick out chords and melodies by ear.
Rock out with confidence.
---
LGS: What is your favorite thing about the lessons?
JE: I never had a lesson I didn't enjoy with Ken, it was a really great time in my life where I had an incredible musical mentor that helped me learn so much about music through the guitar. I've been able to apply the knowledge I gained from working with Ken to teaching different instruments and styles, and I got firsthand experience of what it looks like to be an excellent music teacher.