Looking for the Best Guitar Lessons in Littleton,
Highlands Ranch, Centennial, and Southwest Denver?

Are you struggling to learn to play the guitar?

Are you tired of trying to learn by yourself with ineffective videos and online lessons?

Are you just beginning and unsure of the best way to learn to play guitar?

Do you just want to rock out for fun? Write your own songs? Play in a band?
The fastest and most effective way to move forward with your guitar playing is to work with a teacher with a proven track record of helping people to reach their guitar playing goals. Someone who will teach you and develop your playing so that you are able to play guitar the way you want to, in the shortest amount of time. Working together, I can help you achieve that goal.
---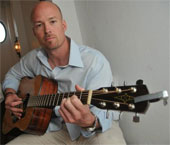 "If I were to be watching myself play just a few weeks ago… I would have to say WOW!"
"I am playing all over the neck and I am starting to surprise myself a bit with that. If I were to be watching myself play just a few weeks ago… I would have to say wow! Pretty cool!" – Eric G. (Centennial)
---
You Want RESULTS!
The options to learn how to play guitar are many – from free to fee-based, online, in person, DVD/ video, audio, books, magazines, or downloaded internet tabs. So many choices! Perhaps you've tried them and found your results to be less than you'd hoped. How do you know what's right for you?
You can try to learn by yourself, but be prepared to spend several frustrating YEARS doing so. That's what I did and that is what many other people do also. Books and magazines, free internet lessons, countless hours trying to learn songs from incorrect tabs… and all the time, NOT really progressing as a guitarist. Many people quit at this point, but those who really want to learn go out and find a good teacher.
Why waste more time? Get a good teacher now. Littleton Guitar School offers the best guitar lessons in Littleton, Highlands Ranch, Centennial, and southwest Denver, Colorado.
---
"Once I met Ken I had the immediate feeling like I had known him for a long time. He knows how to challenge you and push you to that next level, but he's also fun and makes you feel comfortable at your own pace." - Erin Armstrong (Denver Singer/ Songwriter)

Read the full interview with Erin here.

"I was able to relate much more to Ken's playing and his teaching style. Ken's teaching made the fundamentals fun and challenging while being able to cater specifically to me as a student. " - Justin Eubanks (LIttleton)

Read the full interview with Justin here.

"Ken takes his time getting to know his students… getting to know their musical styles and tastes, their reasons for playing, and more importantly their overall personality." - Alex Garcia (Lead guitar/ Songwriter with "At The Watertower")

Read the full interview with Alex here.
---
Why A Teacher? Two reasons…
1) The best way to progress quickly and effectively is to have a clear, large scale PLAN. You need to know WHERE you want to go, and more so, HOW to get there;
2) Someone to provide you specific feedback for your needs, two-way communication! Someone who can watch you play and suggest small (or large) tweaks that will improve your playing and help you progress faster. Someone who will be with you, encouraging you, holding your hand the entire way, consistently letting you know that you can do it! This is what a great guitar teacher offers you! If it were as easy as learning a couple of chords or scales, then everyone would be a guitar player.

---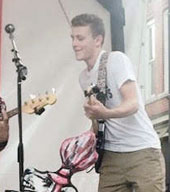 "Ken isn't going to teach you how to play guitar, he's going to teach you to become a guitarist."

"Ken didn't interfere with the development of my sound but rather guided it, or in many cases enhanced it, and sped up the overall process of its creation. Lessons greatly increase the speed at which you learn. There is no substitute for an actual person giving you immediate feedback on the things you think you're good at, and maybe more importantly creating a plan for what you should learn next." – Brandon A (Castle Pines) Read the full interview with Brandon here.
---

"Ken created a custom path for me based on my goals. He introduced the principles and techniques I would need to become a better player in a hierarchical manner — each building upon the last."

" And most importantly, I've stayed motivated to play, because I know where I'm heading and seeing results along the way." – Dan B. (Littleton) Read all of Dan's interview here.
---

"Being taught by someone who has ability and passion has made a huge difference. It gave me the ability to see the long view – where I was going and what I wanted as a player. I've always wanted to play and sing in a band."
"I like to think my bandmates see that I have something to offer and that I want to learn. Those are all skills that came out of guitar lessons. Having something to contribute musically has finally helped me look at myself as a musician – although I'll always be a student!" – Matt O (Littleton)
Read the
full interview with Matt
here.
---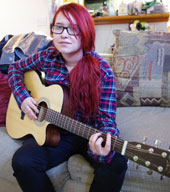 "I was used to having lessons thrown at me with not much to go on but now with Ken, he will go over anything, new or old, to help me learn."

"He also makes sure that you are comfortable with what you are learning so you don't feel pressured." – Bronwyn T. (Highlands Ranch) Read the full interview with Bronwyn here.

---
Are You A Beginner or Just Starting Out?
Playing guitar is one of the most rewarding life skills, and you're making a good decision to begin learning to play. Fair warning! Guitar can be a tough instrument to learn, especially on your own. However it can be fun, enjoyable, easier, and faster with the help of an experienced teacher. I have helped many people like you learn and improve their guitar playing abilities and I would enjoy helping you too. Please read the stories of these real people reaching their guitar playing goals.
Your First Guitar Session Costs Nothing!
All new students receive a no cost, no obligation introductory session. This session allows you to meet me in person, learn something new, and we can decide if it's a good fit. This session allows me to get to know you better- who you are, what style you play, what results you want. From this chat and after hearing you play, we can decide which of the following teaching formats suit you and your goals best. If you're looking for guitar lessons in Littleton, Centennial, Highlands Ranch, Ken Caryl or Denver, contact me to set up your free guitar introductory session now.
---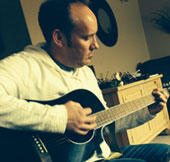 "Ken is a laid-back, great teacher for someone just learning. He is patient, yet will push you and really wants to help you understand and to get better."

"Seriously, it's one of my favorite hours of the week. Taking guitar lessons is out of my comfort zone, but I really enjoy it and I know that I'm making progress." – Jeremy A. (Highlands Ranch) Read the full interview with Jeremy here.
---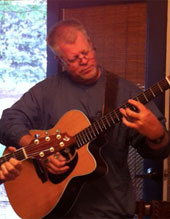 "I look at my training at Littleton Guitar School as an investment in me and my skills as a guitarist. The return on investment has been a fast-track to enjoying and sharing those skills with confidence.
"To me the guitar is more important than just an instrument to learn… it's about feeding your creative side and sense of balance. Rocket Science by day / aspiring Guitarist by night."" – Don Reedy (Roxborough)
Read the full interview with Don here.
---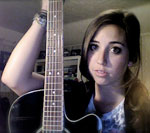 "I not only learned all the essentials of guitar playing, but I learned how to be confident."
"At first in playing the guitar, I was timid at best. I wouldn't play for anyone but Ken, for fear I'd fail. Now that I'm taking steps to record my own music, I jump at the chance to play in front of others. I wouldn't be able to do either of these things without Ken and all he taught me over the years!" – Jenna (Littleton)
---
Guitar Lesson Formats
Guitar programs and lessons are available for players of all levels, starting with a highly effective beginner program, and electric and acoustic guitar programs for many popular genres. Learn to play both lead and rhythm guitar in styles such as classic rock, acoustic rock, blues, folk, metal and jam. Regardless of where you currently are as a guitar player, I can help you become a better one.
For beginners, there are Guitar Kickstart programs for both acoustic and electric guitar. These are easy, slow-paced classes that gets you familiar with the guitar. The goal of these programs is to understand some of the basics, play easy songs, and get comfortable playing guitar. If you have never played an instrument before, or tried in the past and gave up, then these programs are ideal for you. More info on beginner lessons – click here.
So you are still a relatively new guitar player, playing for a few months or maybe a couple years. You've learned a few chords, maybe a scale or a few easy songs and maybe not sure what to do next? Depending on your goals, there are numerous topics and concepts to cover. You can find out more about these guitar lessons here.
For intermediate and advancing guitarists I offer programs to help you greatly expand your skills and music knowledge. Elevate your technical ability, originality, and your musical theory. Here is more info on intermediate and advanced guitar lessons.
Songwriting and recording classes are available too if you would like to explore writing your own songs, learn about the studio, or prepare to release your own CD.
For electric guitarists with advancing skills (or have finished the Kickstart class), I offer programs that introduce you to lead playing, more advanced rhythmic concepts and music theory. This program is designed to prepare you to play in a band, open stages, or jam sessions, in the shortest time possible.
Tuition depends on the frequency and format of your lessons, and your first session is FREE.
---
Motivating and Stimulating Musical Environment!
A stimulating environment is crucial for any musician. The atmosphere of my programs inspire the students to learn and apply their knowledge to music. You will learn to play and also establish relationships with other students like you. Having other players around you will reinforce everything you learn, and will motivate you to learn and play even more!

---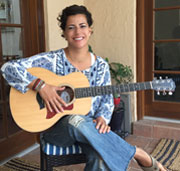 "You are in a very short list of people that have impacted my life in a very positive way and have left a mark."
"I am so grateful to have found you and so happy I took the decision of pursuing this. Learning to play guitar had been on my mind for a long time. Playing makes me happy, very happy. This is one of few things that is all mine and looked forward to it every week. Thank you also for opening my eyes to new songs, styles and rhythms. I have become a fan of several groups that I had never heard before thanks to you." – Ivette Mendez-Kelly (Highlands Ranch)
---

"The one person that has impacted my guitar playing the most in my life is by far Ken."

"Ken can teach any style, and can makes learning fun and enjoyable. He can work with you at any pace, and can get you over any hump or hardship in guitar that you are struggling with. My close relationship with Ken made my love of guitar so much stronger. Ken and I are best friends when we play together." – Jack K (Littleton)

---

"Ken has taken me from basic open chords to performing in front of a room full of strangers!"
" His encouragement is unbelievable! His method of teaching accommodates any level of student, while challenging you to take it to the next step." – Doug Zabinsky (Highlands Ranch)
---
What if…
I could boost your confidence in your guitar playing?

Speed up your learning and enhance your creativity?

Guide you step by step while you have FUN through the whole process?

---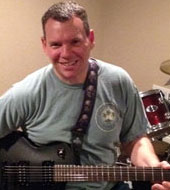 "Thank you for making a dream come true for me."
"When I started taking lessons with you, I had already given up on any chance of playing with a band, live, in front of an audience. I just assumed that opportunity had passed me by. As simple as our little gig was on Saturday, it was that dream coming true. It never would have happened without your support and encouragement. Thank you!" – Ron L. (Littleton)
---
Would you like to dig a little deeper? Find out how learning at Littleton Guitar School is different from typical guitar lessons and how I can help you reach your goals as a guitar player.
How long have you been playing guitar?